"We approached Primetake over 15 years ago because we needed to effectively manage wildlife at a greater distance" – Manchester Airport
19 August 2019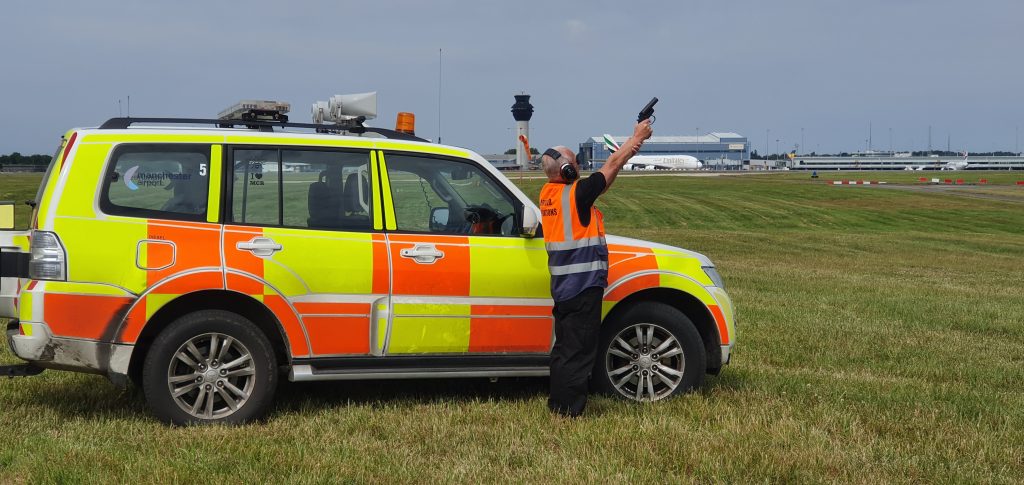 Primetake Bird Scaring Cartridges help Manchester Airport preserve wildlife in various scenarios. Most recently, our airport has had a large construction site running through the Runway, which during that time created a bird hazard. We utilised on airfield and off airfield operatives using Primetake cartridges and pistols to create a larger safe zone and a steady movement of birds. We were able to safely deal with this bird hazard quickly by tactically deploying Primetake's pyrotechnics.
Furthermore, we have used Primetake cartridges to break up and deflect flight lines of woodpigeon crossing the airfield. Woodpigeons are known to revert to their original flight lines shortly after being scared off. In our experience, when we deploy Primetake cartridges and pistols, birds stay away for much longer.
In summary, there are various different types of bird scaring equipment that you can deploy on your airfield. Considerations need to be those types that give you the most prolonged respite from the species that represent the highest risk and that are easily deployed within a busy working environment.
Manchester Airport's Safety Management Standards are maintained by following Civil Aviation Authority aerodrome licensing requirements, CAP772 Bird-strike Risk Management and EASA Compliance, Manchester Airport governs this through the provision of a comprehensive wildlife hazard and risk management regime and continues to develop its safety improvement strategies and operational procedures.
Manchester Airport deploys Airfield Safety & Compliance Officers that maintain a wildlife management capability 24 hours a day. These are front line operational teams who reduce the risk of bird strikes for airlines using effective equipment and bird scaring tactics. A secondary role of this team is to gather information about wildlife activity and stop it from becoming habituated to the airport using various methods of non-lethal control. In addition to the dedicated wildlife team, there is also support from the broader groups employed by Manchester Airport whether this is from our safeguarding, environment, or ground maintenance teams who assist in the safe operation of both runways.
Email sales@primetake or call 01522752323 for more information on our bird scarer cartridges.
---