Extended Range Bird Scaring Cartridge – Product Spotlight
27 April 2017
One of Bird Scaring by Primetake's most popular cartridges, the 'extended range tracer' is renowned and employed across the globe, relied upon by small and international airports alike to mitigate bird strike hazards.
Like all Primetake Bird Scaring Cartridges, the PT1044 Extended Range Tracer is designed to be used in and around airports and airfields to help with control of bird movement and dispersal as a vital component to an overall wildlife management strategy.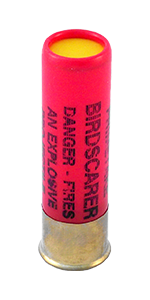 The Extended Range Cartridge produces a slight green tracer and smoke trail during flight with a loud report. The Cartridge comes in a red plastic case with yellow top and has a range of 80m ± 10m (depending on environmental conditions) when fired at a recommended angle of 45º.
This particular cartridge is also available as a rain resistant variant (PT1044B) with a foil top allowing for limited use in adverse weather conditions. The extended range cartridges should only be fired through a signal pistol sleeved to 12G. Not to be fired through 12 Gauge pistols or shotguns.
In combination with Primetake's other cartridges, airports and airfields have a rapidly deployable and effective bird scaring method to control their immediate airspace. This is achieved through cartridge selection and angle of fire to react to any potential hazards.
Please don't hesitate to contact us if you have a pyrotechnic bird scaring requirement. We can also offer 26.5mm and 38mm Signal pistols with 12 Gauge adaptors for the cartridges to be fired with.
---