---
Long Range Nitro Shotgun Cartridge
PT1006B
Smoke Trail
Loud Report
50m ± 80m Range
The Long Range Nitro Cartridge produces a smoke trail during flight with a loud report. The effective range achieved by Primetakes Long Range cartridge can vary between 50m and 80m, with the average being 65m.  Variation in the ranges achieved may be as a result of the firers' arm & hand position as well as weather conditions and prevailing winds at the time of use.
View Long Range Nitro Shotgun Cartridge >
---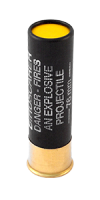 12G Shotgun Screech
PT1008
Tracer
High Pitch Screech
70m ± 10m Range
The Shotgun Screech Cartridge fires a sub calibre tracer projectile emitting a high pitched screech during flight. The Cartridge comes in a black plastic case with a yellow top and has a distance of 70m ± 10m (depending on environmental conditions) when fired at a recommended angle of a 30°.
12G Shotgun Screech Data Sheet »
View 12G Shotgun Screech >